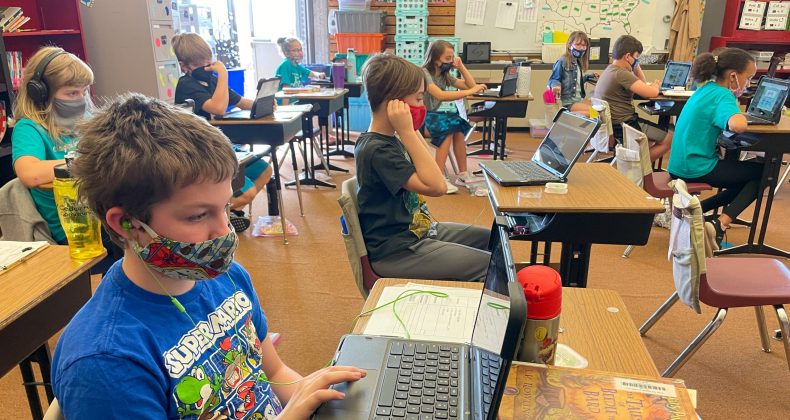 Maple Grove Elementary places an emphasis on community service with students as well as whole-school service projects. The mission of Maple Grove is to develop independent thinkers and learners who are respectful and responsible citizens.
Maple Grove has several enrichment club offerings including: garden club, running club, and art club. Maple Grove also offers athletic and academic intramurals before and after school. Prime Time is a challenging, academic program that serves second and third grade students that have demonstrated superior potential in a specific intellectual area. Like Prime Time, the elementary school program for academic and creative talent (PACT) provides curriculum enrichment experiences for academically gifted students in fourth and fifth grades.
Maple Grove's parent teacher association (PTA) is involved in supporting classroom teachers with instruction and special events as well as sponsoring monthly family fun night events for our school community. The PTA has focused on raising awareness of the importance of parents as the first teachers in the home, as partners with and advocates for public schools, and as the voices for children and children's issues in communities.
School history
Historically, Jackson Elementary School, located on 38th Street NW, was dedicated in 1971 and occupied as an elementary school until 1986. At that time, because of declining enrollment in the neighborhood, the Jackson building was closed. Part of the building served as a warehouse for district supplies and another part was rented and used by a gymnastics club.
With a population increase in Cedar Rapids in the early 1990's, Jackson Elementary was reopened in the fall of 1993. At that time, about 330 students were enrolled. Each year has seen an increase in the student body and consequently an increase in staff and services. Citizens of Cedar Rapids Community School District overwhelmingly supported a bond issue that funded the new Viola Gibson Elementary School, just 5 miles up the road from Jackson Elementary. Over 130 students were transferred to Viola Gibson before the beginning of the 2002-2003 school year, leaving Jackson Elementary with about 300 students. 
As part of the Cedar Rapids Community School District's Facilities Master Plan, the CRCSD Board approved a funding request in 2018 to update or rebuild the district's 21 elementary schools. These updates or rebuilds will bring all schools ADA compliant, energy efficient, and combine schools in neighborhoods where it best makes sense. This plan led to a tear-down of Jackson Elementary, and the build of Maple Grove Elementary on the same lot in spring 2022. Maple Grove Elementary will open for the 2022- 23 school year, housing preschool- 5th grade students, and feeding into Taft Middle School and Jefferson and Kennedy High Schools. 
Maple Grove Elementary School is located in a quiet, secluded residential area in northwest Cedar Rapids. Maple Grove's attendance area includes the surrounding residential area and the quickly developing residential area on the northeast side of Cedar Rapids. Our attendance area reaches out to include the town of Covington and the farming community in that area. Approximately 80% of Maple Grove's students are transported by bus each day.
---
Key contact